Debit Cards
If you are traveling outside the United States, please contact the ATM Department at 212‑850‑4550 to ensure convenient access to your account.
Emigrant's Cash Navigator™ debit card when used with your unique personal identification number (PIN) allows you to access checking at Emigrant ATM's or any ATM that displays the NYCE®, or PLUS® logos.
If you would like to report a lost or stolen ATM/Debit card, please call 212‑850‑4550.
Shopping
Use your Cash Navigator™ card worldwide and online where MasterCard®/Debit Card is accepted. The card may also be used to shop wherever you see the NYCE® or Maestro® logos. The purchase amount will be automatically deducted from your Emigrant Checking account.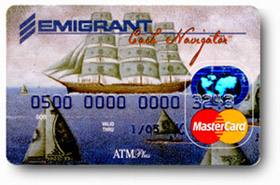 Additional Benefits
MasterCard® SecureCode™ - We have provided additional security on our Cash Navigator™ (ATM/Debit Card). When you sign up for MasterCard® SecureCode™ you will experience added protection against unauthorized use of your card when you shop online. Click here to sign up.
Online Banking - With EmigrantOnline™ you have another convenient way to manage your finances. Monitor all of your Emigrant accounts. Transfer funds between accounts, pay bills electronically, track your portfolio and more.
PhoneAccess™ - Emigrant's telephone banking service provides your current account balances and the transfer of funds between accounts, 24 hours a day, seven days a week.
The Cash Navigator™ trademark is used under License from Clark Capital Management Group, Inc.
For more information please call 1‑800‑836‑1998, Monday through Friday 8 AM-6PM or e-mail us at onlinecustomerservice@emigrant.com.